Japan buckles up to join China's Belt and Road
The extent of Japan's cooperation remains to be seen, but this move may help Japanese Prime Minister Shinzo Abe realise his 'Free and Open Indo-Pacific Strategy'
In June 2017 the Japanese government suddenly reversed its original position on China's Belt and Road Initiative (BRI) and announced that Japan would cooperate and provide financial backing for the US$1 trillion cross-border infrastructure development project.
Engaging with the BRI allows Tokyo to pursue some of its important economic goals through greater overseas infrastructure investment. The Initiative may also motivate Japanese companies to seek greater business opportunities along the BRI route. Japan's own regional connectivity projects can complement the BRI and strengthen regional integration in the Indo-Pacific.
Japan's support for the BRI is likely to enhance the efficiency of both China and Japan's ongoing infrastructure projects due to their overlapping functional areas like energy conservation, the advancement of industry and the distribution of goods. There is huge potential for cooperation between Tokyo and Beijing to help deliver more rapid and sustainable growth given the region's high demand for infrastructure. Japan and China may also be able to use this opportunity to improve their bilateral relationship, including by resuming high-level visits and winding down existing tensions in the East and South China Seas.
read more
Japan said ready to cooperate with China's 'Silk Road' project
Prime Minister Shinzo Abe plans to promote cooperation in China's cross-border infrastructure development project, in a shift in diplomatic policy to check Beijing's growing territorial assertiveness in the region, government sources said Sunday.
The Japanese government has briefed China on Abe's current goal of promoting a free and open Indo-Pacific region and the policy's positive effects on Beijing's so-called One Belt, One Road cross-border infrastructure initiative, according to the sources.
"Our strategy is to achieve stability and prosperity of international society by coordinating with countries in the Indian Ocean and Pacific Ocean," one of the sources said. "This should contribute to advancing the One Belt, One Road initiative."
read more
Japan to help finance China's Belt and Road projects
Chinese President Xi Jinping meets with Japanese Prime Minister Shinzo Abe in Da Nang, Vietnam, on Nov. 11, 2017
The Japanese government plans to cooperate with China on its Belt and Road initiative by financially supporting private-sector partnerships, as Tokyo seeks to improve bilateral ties with its Asian neighbour, the Nikkei reported on Wednesday.
Cooperation will centre on the environmental sector, industrial modernization and logistics, according to guidelines compiled by the government, the Japanese business daily said.
Assistance will include loans through government-backed financial institutions to promote cooperation among private Japanese and Chinese firms working on projects in third-party countries, it said.
read more
Japan welcome to join belt and road
Japan's reluctance to join China's "Belt and Road Initiative" was always puzzling. Geopolitical concerns are one matter, but the economic gains and benefits from the planned infrastructure projects between Asia, Africa and Europe could not be ignored. Japanese Prime Minister Shinzo Abe's expressed intention to cooperate is welcome. The United States and India would also do well to follow his lead.
Japanese business leaders and corporations have always been eager to join the scheme, but were disadvantaged by their government's refusal to get on board. More than 100 nations and international organisations have backed the belt and road idea since it was first raised by President Xi Jinping in 2013 and dozens have signed cooperation agreements with Beijing under the framework. There is a widespread recognition of the opportunities offered by the initiative and the growth and prosperity that it can bring to the world's most economically promising regions. Abe's putting politics ahead of all else was cutting his country off from the benefits and potential gains.
Worse, Abe seemed intent on forming a rival scheme with the US, India and Australia, a grouping informally known as the quad. Reflecting outdated thinking harking back to the cold war, the stated aim was to counter China's growing influence in the region through isolation. The strategy was raised and promoted during US President Donald Trump's visit to East Asia last month. But Abe's positive remarks about cooperation with China at a business forum in Tokyo earlier this month attended by Chinese and Japanese executives shows realisation that when it comes to trade and investment, such an approach is not in the interests of his country.
read more
One Belt, One Road: a Japanese perspective
The Asian Infrastructure Investment Bank (AIIB) was established under the leadership of China for the purpose of putting into reality the country's economic vision of One Belt, One Road. Prime Minister Shinzo Abe's administration has been consistently skeptical about the AIIB, pointing to the lack of transparency in its management and financing, as well as other issues. Even Vietnam and the Philippines, who are in a harsh territorial conflict with China in the South China Sea, joined the AIIB along with European powers; but Japan, keeping in step with the US, has chosen to stay out.
However, given Japan's position in Asia, its continuous dismissive attitude to the One Belt, One Road initiative may hurt the country's economic interests and even diminish its presence as a major power in the region. In fact, from an economic standpoint, it makes more sense for Japan to welcome One Belt, One Road. The reason why the Japanese government has failed to do so lies in its strained relationship with China.
Japan has been suffering from an economic depression for a long time. In contrast, China, despite the shadows cast on its growth these days, has already grown to become the world's second largest economic superpower, and its military presence is also increasing. Consequently, the Japanese are starting to doubt the sense of superiority they felt over China for many years after the end of World War II. The antagonism over the perception of history, the Senkaku Islands, and other issues cannot be ignored, either. According to the "Survey of Public Opinion on Foreign Relations" released by the Cabinet Office on 12 March 2016, the percentage of respondents who had "no positive feelings" toward China recorded the highest value since 1978: 83.2 percent.
read more
Japan's Belt and Road Puzzle, Decoded
Japanese Prime Minister Shinzo Abe, left, and Chinese President Xi Jinping reach to shake hands before a group photo session for the G20 Summit in Hangzhou (Sept. 4, 2016)
Has Japan, a staunch supporter of the U.S.-led, universal value-based international order, embraced China's Belt and Road Initiative (BRI)? Since the Belt and Road Forum (BRF) in 2017, in what may appear to be a sudden shift, traditional U.S. ally Japan has been embracing the BRI, which is often understood as Beijing's grand strategy to employ every component of national strength to assert its influence and redesign the regional order. But a closer look at Japan's strategy suggests Prime Minister Shinzo Abe is involved in a carefully considered attempt to discard a narrow approach — pursued in the case of the Asian Infrastructure Investment Bank (AIIB) — and engage with China with the objective of shaping it as a responsible actor and upholding the highest standards of global governance in accordance with international norms.
As Beijing is becoming increasingly confident of its national power, it is pursuing geopolitical and geoeconomic interests through grand designs like the BRI. The BRI is an important instrument to realize President Xi Jinping's goal of making China a "global leader in terms of composite national strength and international influence" by the middle of the 21st century. As Xi pursues the Chinese Dream under the narrative of "the great rejuvenation of the Chinese nation," Beijing is increasingly putting the U.S.-led, universal value-based order to test. Whether it is designing a new regional security architecture marked by an "Asia for Asians" approach, testing U.S. resolve in the South China Sea, effectively employing "institutional statecraft" by designing alternatives like the AIIB, or leading regional economic architecture with the Regional Comprehensive Economic Partnership (RCEP), China is putting the U.S. role to the test. While traditionally a U.S.-led liberal order dominated East Asia, the arrival of China as a major power is altering the regional balance of power.
As the debate around the future of the U.S.-led regional order intensifies, traditional allies like Japan have stepped up to reinforce the foundations and resilience of the U.S.-led system. The initial articulation of this was witnessed in Shinzo Abe's strategic vision, culminating in Japan's Free and Open Indo-Pacific Strategy in 2016. The Asia-Africa Growth Corridor (AAGC), conceived in collaboration with India, is one of the key manifestations of this strategy.
read more
Wait, Japan, Don't Rush Down China's 'One Belt, One Road' Path
Calls in the government and the media to participate in the One Belt, One Road (OBOR) expansionist economic project being promoted by Chinese President Xi Jinping are bubbling to the surface once again. Beijing continues its sweet-talk, but isn't it just promoting a trip down the primrose path?
Mr. Xi proposed the OBOR in November 2014. It is a grand plan to create an infrastructure network across the Eurasian continent, joining east and south Asia, the Middle East, East Africa, and the European coast with major Chinese cities such as Beijing. Local projects in the OBOR region are carried out under Chinese supervision. China is also organizing project funding through the Asian Infrastructure Investment Bank (AIIB), an institution it established in Beijing in December 2015.
Many countries from Asia, the Middle East, and Europe—including Russia—participate in both the OBOR and AIIB. Among the developed countries, however, Japan and the United States have continued to observe cautiously.
read more
Japan and 'One Belt, One Road'
Reversing his position, Prime Minister Shinzo Abe has indicated that Japan is ready to cooperate with China's "One Belt, One Road" (OBOR) initiative for cross-continental infrastructure development under certain conditions. He is also now willing to consider Japan joining the China-initiated Asian Infrastructure Investment Bank (AIIB) — of which Japan, along with the United States, sat out when it was set up in 2015 — once doubts about its governance and operation are cleared. While these shifts may be motivated by concerns that Tokyo could be left behind as Beijing and Washington move closer in trying to restrain North Korea, it's time that Japan also take steps to rebuild its strained ties with China, and cooperating with the Chinese initiatives should be a good start.
After Tokyo nationalized the disputed Senkaku Islands in 2012, relations with China plunged to their lowest point since the two countries normalized ties in 1972. China's aggressive maritime posture in the South China Sea, such as its large-scale construction of islands in disputed areas, have added to bilateral tensions. Efforts toward rebuilding the frigid ties have been slow, and top-level contacts remain sporadic.
In a speech in Tokyo earlier this month, Abe lauded the OBOR initiative — put forth by Chinese President Xi Jinping in 2013 to facilitate massive investments that would connect a land-based economic belt modeled on the ancient Silk Road and a maritime corridor stretching from China to Southeast Asia, India, Africa and Europe — as having the "potential to connect East and West as well as diverse regions found in between."
read more
Key to success of the Maritime Silk Road
The projects of the New Silk Road are like pieces of a puzzle scattered all across a clutter-filled room. You see some here, some there, but you don't really think much of any of them in and of themselves. On their own, conventional perceptions of them tend to range from moderately impressive to downright mind boggling—why are resource-dependent nations building massive transport hubs in the middle of nowhere? It's only when we start to connect the dots do we see how these these pieces come together to form a much larger picture of what global economics in the 21st century will become.
Eurasia, the continental landmass containing both Europe and Asia, is rapidly being strung together into a contiguous market covering upwards of 65% of the population, 75% of energy resources and 40% of GDP in the world. In this light, speaking of individual New Silk Road projects is almost a wasted exercise. It's the network that's of significance--a network that's seeing diverse economies and political systems from China to Europe being put on the same page via a more or less unified initiative. This is something that has never happened before.
That said, we can't tell where the New Silk Road is going tomorrow by looking where it's at today. We're talking about formally remote and disconnected regions becoming linked-in hubs of regional logistics , resource-dependent nations cultivating new agricultural, manufacturing, and commercial potentials, and previously poor, under-developed economies reconfiguring themselves to become epicenters of production and innovation. When economies connect, economies change, and our paradigms of what these countries are and the roles they will serve in the future needs to change as well.
Piraeus Port
The Khorgos / Horgos cross-border area
The New Port of Baku
The China-Pakistan Economic Corridor
Central and Western China development
read more
Singapore Stumbles on China's Road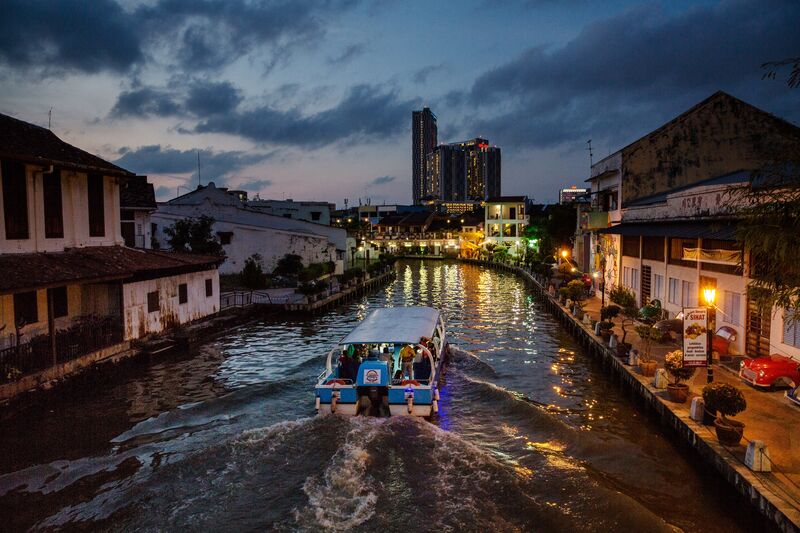 A tourist boat travels along the Malacca River
The Straits of Malacca have been a gateway for China for centuries in its quest for power.
A story blended from Malaysian history and folklore says an emperor sent a princess called Hang Li Po to marry the Sultan of Malacca in the Ming Dynasty, offering a ship filled with gold needles. He also sent a blunt message. "For every gold needle, there is a subject. If you can count the number of needles, you will learn the true extent of my power," the emperor reportedly said in a letter.
Hundreds of years later, China is again seeking influence in Malaysia as it spreads its economic and military clout through Southeast Asia. It is investing billions in a $7.2 billion redevelopment that will see Malacca, long the haunt of Chinese traders, become a new deep sea port.
read more
The Belt And Road Initiative: A new way forward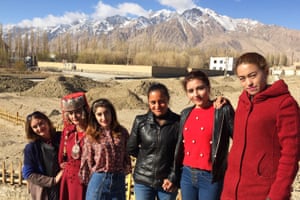 Tajik women who are optimistic about the region's redevelopment. Photograph: Tom Phillips for the Guardian
When Chinese president, Xi Jinping, unveiled what some call the most ambitious development plan in history, Zhou Jun decided almost immediately he should head for the hills.
The 45-year-old entrepreneur packed his bags and set off for one of his country's most staggeringly beautiful corners: a sleepy, high-altitude border outpost called Tashkurgan that - at almost 5,000km (3,100 miles) from Beijing - is the most westerly settlement in China.
"I saw a great opportunity to turn this little town into a mid-sized city," Zhou explained during a tour of 'Europa Manor', a garish roadside spa he recently opened for Chinese tourists along the Karakoram, the legendary 1,300km highway that snakes through China's rugged western mountains towards the 4,700m-high Khunjerab Pass.
read more
The New Silk Road 新絲綢之路
A huge shift in trade and relations could be under way across Eurasia and
China's New Silk Road policy is at the heart of it.
As a historical reference point, the Silk Road continues to resonate, long after the trade route serve ant economic purpose.
For Europe it evokes the slow sway of camel trains across parched landscapes and the flow of exotic goods into the continent. And in China, it brings to mind the touchstones of its imperial history and its connection to the outside world.
read more
Singapore as a 21st century maritime silk road
LET'S NOT BEAT around the bush. PM Lee Hsien Loong's absence at the New Silk Road summit currently taking place in China is a big deal.
Was he not invited or did he elect not to attend (and despatched National Development Minister Lawrence Wong instead)? The former seems the more plausible account. Either way, the development can only be described as doomy.
The summit, attended by 28 heads of government, is Beijing's way of announcing its intention of breaking out from under the United State's world domination, at least in the sphere of trade and commerce.
Here are are five ways Beijing is doing this:
Melaka Gateway
East Coast Railway Line (ECRL)
New Silk Road
Arctic Route
Kra Canal
read more
The "One Belt, One Road" 一带一路 initiative
Belt and Road Initiative -- idea from China but belongs to whole world. The Belt and Road (yidaiyilu) Initiative has become the most popular public goods and platform for international cooperation with the brightest prospects in the world amid rising protectionism and unilateralism, Chinese Foreign Minister Wang Yi said on the sideline of the recently concluded China's two sessions.
Proposed in 2013 by Chinese President Xi Jinping, the initiative has witnessed continuous expansion of its "friend circle", and yield tangible benefits for countries along its routes.
It will provide unprecedented opportunities for the economic and social development of countries involved, as "it is the way leading to the community of shared future for mankind," said Gerrishon K. Ikiara, a senior lecturer at the University of Nairobi.
read more
related:
The Little Red Dot and the Red Dragon
Japan and 'One Belt, One Road'
Arctic shipping: The Northwest Passage
Embracing, Leaning & Tilting towards China
Singapore And The Trans-Pacific Partnership (TPP)
Regional Comprehensive Economic Partnership (RCEP)
Singapore - China Bilateral Ties
The Little Red Dot and the Red Dragon
Singapore China G-to-G Projects
Why Singapore needs Mega Ports?
Could Singapore's port become irrelevant?
Another Singapore Next To Singapore?
Key to success of the Maritime Silk Road
Singapore Stumbles on China's Road
The Belt And Road Initiative: A new way forward
The New Silk Road 新絲綢之路
Singapore as a 21st century maritime silk road
The "One Belt, One Road" 一带一路 initiative