When news broke out in early 2013 that Country Garden, a top 10 Chinese developer had bought land in Iskandar Malaysia, the response was quite positive and highlighted that Iskandar was able to attract other international investors than just Singapore. Fast forward 18 months later to late 2014, a slew of other Chinese developers such as R&F Guangzhou and Greenland Group entered the Iskandar property market as well.
However it was still Country Garden that created the biggest stir by announcing details of their massive 3,400 acre Forest City development off the 2nd Link between Singapore's Tuas and Johor's Nusajaya.
Why are the Chinese so interested in Iskandar Malaysia? What is so attractive for them to invest millions into the region?
A replica of the Hong Kong - Shenzhen story

Expectations of a population boom in Iskandar a.k.a. Shenzhen

Private property Singapore gets more expensive in the medium term

An Aging population in Singapore

Chinese property buyers are going global

Chinese companies doing business in South East Asia
read
more
China Wants This Malaysian Port to Rival Singapore (And That's Not All)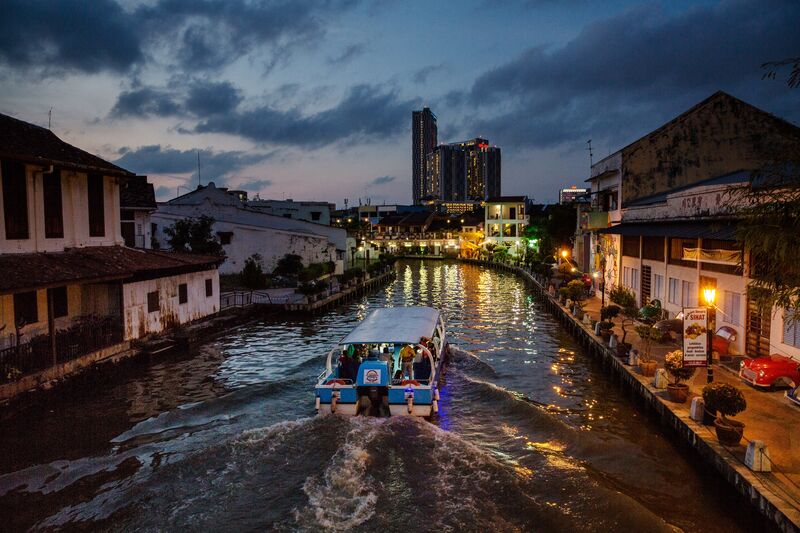 A tourist boat travels along the Malacca River
The Straits of Malacca have been a gateway for China for centuries in its quest for power.
A story blended from Malaysian history and folklore says an emperor sent a princess called Hang Li Po to marry the Sultan of Malacca in the Ming Dynasty, offering a ship filled with gold needles. He also sent a blunt message. "For every gold needle, there is a subject. If you can count the number of needles, you will learn the true extent of my power," the emperor reportedly said in a letter.
Hundreds of years later, China is again seeking influence in Malaysia as it spreads its economic and military clout through Southeast Asia. It is investing billions in a $7.2 billion redevelopment that will see Malacca, long the haunt of Chinese traders, become a new deep sea port.
US$100 billion Chinese-made city near Singapore 'scares the hell out of everybody'
Planeloads of buyers fly in as condos rise from the sea
The landscaped lawns and flowering shrubs of Country Garden Holdings Co.'s huge property showroom in southern Malaysia end abruptly at a small wire fence. Beyond, a desert of dirt stretches into the distance, filled with cranes and piling towers that the Chinese developer is using to build a $100 billion city in the sea.
While Chinese home buyers have sent prices soaring from Vancouver to Sydney, in this corner of Southeast Asia it's China's developers that are swamping the market, pushing prices lower with a glut of hundreds of thousands of new homes. They're betting that the city of Johor Bahru, bordering Singapore, will eventually become the next Shenzhen.
"These Chinese players build by the thousands at one go, and they scare the hell out of everybody," said Siva Shanker, head of investments at Axis-REIT Managers Bhd. and a former president of the Malaysian Institute of Estate Agents. "God only knows who is going to buy all these units, and when it's completed, the bigger question is, who is going to stay in them?"
read
more
Chinese property developers flooding Johor Bahru with 500,000 apartment homes
According to a Bloomberg report on Nov. 22, Johor Bahru is in the midst of being flooded with up to 500,000 brand new apartment homes built by Chinese property developers on reclaimed land facing Singapore up north.
The developers are betting on Johor Bahru's special Iskandar economic zone, which is three times the size of Singapore, to be the next Shenzhen — the neighbor of Hong Kong that grew from a fishing village to a city of 10 million people in three decades.
When completed, the property Forest City sitting on four artificial islands developed by Country Garden Holdings will reportedly house 700,000 people.
related:
Land-abundant M'sia plans to reclaim land right in front of S'pore
read
more
Forest City developer suspends China sales to halt capital outflow: Report
Visitors view the scale model of development at Forest-City on one of the man-made islands on the Malaysian side of the Straits of Johor. AFP file foto
Beijing's clampdown on capital outflows may have forced Forest City's developer to close down all its showrooms in mainland China to stop sales to local buyers, the South Morning China Post reported.
The Hong Kong paper said a spokesman from Country Garden confirmed that all its showrooms have been closed down after its reporter found the company's flagship showroom in Shanghai locked & closed during a visit yesterday.
However, the spokesman said the close down was for renovation & not due to Beijing's capital policy.
related:
Malaysia gains nothing but trouble from Forest City: Dr M
Chinese netizens slam Mahathir over Forest City remarks
This S$143b Chinese-made city in Johor 'scares the hell out of everybody'
Johor's Forest City seeks to diversify ownership amid Chinese dominance
read
more
Country Garden shuts China showrooms for Johor's Forest City project amid FX controls
Country Garden Holdings said on Friday (Mar 10) that it has shut China showrooms that promote its Malaysian Forest City development, to adapt to China's stricter foreign exchange policies as well as diversify its sales strategy for the project.
The Chinese developer last year sold around 18 billion yuan (US$2.61 billion) worth of apartments in its massive Forest City project in Malaysia's ambitious Iskandar special economic zone, with Chinese nationals accounting for 70 per cent of the buyers.
However, as China tightens its rules on moving funds out of the country after the yuan fell to more than eight-year lows, firms or deals relying on Chinese investment are faced with extra challenges.
read
more
Country Garden's sales centre closure is temporary
Country Garden says it will take a holistic approach to its sales and marketing initiatives. The Reuters photo taken on Feb 21 shows prospects looking at a model of the development at the Country Garden's Forest City showroom in Johor Baru
Country Garden Pacificview Sdn Bhd says the recent closure of its sales centres in China is temporary and in line with the shift in its sales and marketing efforts.
Chief of Strategy Yu Runze in a press statement pointed out that the shift in the sales and marketing started early this year.
"It is not a knee-jerk reaction to Chinese government's policy implementation," he said.
Runze said that the company – the master developer of the US$100bil (RM445bil) Forest City in Johor - always planned to sell beyond China and had therefore chosen to bring those plans forward this year.
read
more
Iskandar follows the Shenzhen script
Links to Hong Kong are replicated in the Malaysian economic zone's ties to Singapore
Efforts to transform the Malaysian border zone near Singapore into a bustling commercial corridor appear to be on track after a rocky start.
The zone, known as Iskandar, is emerging as an attractive opportunity that deserves to be on the radar of those considering investment in the new growth centres of Asia.
Iskandar is a 2,216 square kilometre urbanisation project, three times the size of Singapore. Nusajaya, the residential zone at its core, which stares across the water at the Singapore skyline, is just a 45-minute drive from Singapore's Changi airport. The zone is geared towards a residential metropolis with educational, medical and theme-park infrastructures being used to attract resident migrants from Singapore. Logistics, transport and industrial-related infrastructure is being developed in adjacent zones.
related:
China becomes Malaysia's biggest foreign investor
read
more
The Chinese factor – 5 ways investments from China will impact the property landscape in Iskandar Malaysia
Iskandar Malaysia continues to see record investments with RM202.45 billion in total cumulative investments from 2006 to March 2016, according to statistics from Iskandar Regional Development Authority (IRDA).
Among the promoted sectors, the manufacturing sector recorded the highest cumulative committed investments at RM54.26 billion.
T
his includes investment from the sectors of electrical & electronics, petrochemical & oleo-chemical and food & agro-processing.
This is followed by investments in the logistics, tourism, healthcare, education, financial services and creative industries at RM6.03 billion, RM6.03 billion, RM2.77 billion, RM1.97 billion, RM1.47 billion and RM0.56 billion respectively.
related:
Is Malaysia overtaking Singapore anytime soon?
read
more
Iskandar Malaysia - China developers' new land of opportunity
Chinese developers are zeroing in on Iskandar Malaysia, spurred by the tough market at home & the promise of rich rewards in the booming Johor Baru zone.
Their preference for building huge "township-style" projects has got some locals' backs up, but others cheer the job growth that the Chinese cash is generating.
Altogether, 5 mainland developers have about 150ha of land & reclamation should add a further 2,000ha.
read
more
Iskandar Malaysia Lands RM2.5 Billion Deal From China-based Company
KUALA LUMPUR, Nov 3 (Bernama) -- Iskandar Investment Bhd, the catalytic project developer of Iskandar Malaysia, has secured a RM2.5 billion real estate investment from China-based company, Qingdao Zhouyuan Investment Holdings.
Qingdao Zhouyuan is a subsidiary of Hebei-based real estate developer, Zhouda Real Estate Group.
President and Chief Executive Officer Datuk Syed Mohamed Ibrahim said the investment project, over three phases, will commence next year and be over a period of about 10-15 years.
read
more
The Iskandar Insider
The landscaped lawns and flowering shrubs of Country Garden Holdings Co.'s huge property showroom in southern Malaysia end abruptly at a small wire fence. Beyond, a desert of dirt stretches into the distance, filled with cranes and piling towers that the Chinese developer is using to build a US$100 billion city in the sea.
While Chinese home buyers have sent prices soaring from Vancouver to Sydney, in this corner of Southeast Asia, it's China's developers that are swamping the market, pushing prices lower with a glut of hundreds of thousands of new homes. They're betting that the city of Johor Bahru, bordering Singapore, will eventually become the next Shenzhen.
"These Chinese players build by the thousands at one go, and they scare the hell out of everybody," said Siva Shanker, head of investments at Axis-REIT Managers Bhd. and a former president of the Malaysian Institute of Estate Agents. "God only knows who is going to buy all these units, and when it's completed, the bigger question is, who is going to stay in them?"
read
more
Johor's Forest City seeks to diversify ownership amid Chinese dominance
A model of the Forest City development is displayed at the Country Garden Holdings Co. property showroom in Iskandar Malaysia zone of Johor Bahru, Johor, Malaysia, on Tue, Nov. 02, 2016. Bloomberg file foto
The developer of Forest City, an upcoming posh residential & commercial enclave in Johor Baru, is actively courting more buyers from other parts of Asia following complaints that virtually all of its buyers are wealthy Chinese nationals.
Developer Country Garden's chief strategist Runze Yu said the people behind the project are seeking to woo other home buyers from South-east Asia, India & the Middle East to balance out the Chinese ownership, which is currently at 70%, The Financial Times reported on Fri (Feb 10).
"There is a conventional image about the Chinese & China companies: Money-driven, hardworking & cheap — not good quality," Mr Runze was quoted saying.
related:
Johor Sultan slams Dr Mahathir for playing 'politics of fear and race'
The real reason Dr Mahathir is taking on the Sultan of Johor
read
more
China developers entry into Iskandar will fuel competition
This Nov 14, 2013, photograph shows workers at an under construction condominium at Danga Bay in Johor Bahru bordering Singapore. Construction cranes are sprouting across Johor state as investment flows into "Iskandar", a development zone that aims to draw Singaporean Chinese and other capital to its larger neighbour's cheaper land and labour costs. - AFP PHOTO/ROSLAN RAHMAN
The entry of developers from China into Iskandar Malaysia is increasingly being felt and will intensify the competition in the region, according to Maybank Investment Bank Research.
The research house expressed its concern that the developers could flood the market with massive supply of high-rise mixed development projects, inducing price volatility. It said this could happen if there were no synchronised planning and control by the authorities.
A local analyst reckoned that competition would heat up in the Iskandar region owing to the presence of not just these developers but also most of the major property players.
read
more
Stirring up interest in Iskandar Malaysia
New-home sales in Iskandar Malaysia have cooled over the past year, with Singaporean and mainland Chinese buyers retreating from the market. Even local Malaysian buyers have adopted a wait-and-see attitude amid a slowing economy. "People are just holding back in times like this," says UEM Sunrise's managing director and CEO Anwar Syahrin Abdul Ajib.
Whether people are waiting for a good deal or gauging market sentiment before taking the plunge, the Bursa Malaysia-listed property developer hopes to lure homebuyers back with incentives. UEM Sunrise launched its "Signature Selection" programme in September by offering inducements in various projects with unsold stock. These range from RM50,000 ($16,632) worth of kitchen fit-outs to cash rebates, travel vouchers and lucky draws with cars as top prizes.
At Regent's Park in Nusajaya, where freehold five-bedroom villas are priced upwards of RM6 million, buyers stand a chance to win a Jaguar XF. At Noble Park, the latest phase at its East Ledang gated and guarded residential community, buyers of its grand pool villas can look forward to winning a Range Rover Evoque. Buyers of super linkhouses at Estuari Gardens @ Puteri Harbour can vie for the top prize of a Mercedes C-200. UEM Sunrise is also including some of its projects in Mont'Kiara, Kuala Lumpur in the "Signature Selection"
read
more
What does this mean for Iskandar Malaysia?
Iskandar Malaysia, being the earliest beneficiary of Chinese investments, is a step ahead in terms of development progress. By late 2017, we should see the completion of the first Chinese development projects and also the start of construction for the HSR as well as the rapid transit system linking Singapore and Johor Baru. These will bring in the next wave of Chinese investors, which will primarily be in the manufacturing and services sectors. This is on top of the real estate and construction companies that we tend to focus on today.
There have already been several trade missions between Chinese private and public sector groups, and Johor chambers of commerce and government parties to facilitate new trade cooperation activities in Iskandar Malaysia. Greenland's joint venture with the Johor government to develop a 3,000-acre site in eastern Johor, including major industrial components, is one example.
China's One Belt, One Road initiative has one key feature, which is to develop industrial capacity and demand outside China. Rather than the traditional method of importing raw materials and producing in China, the initiative seeks to shift certain industries to outside of China and play a bigger role in the production chain by providing infrastructure and services to enable this. The initiative also seeks to increase the purchasing power of locals in various countries and diversify China's export markets.
read
more
Adjacent To Singapore, Enjoy The Prosperity Of Singapore And The Affordability Of Malaysia
Malaysia's overall housing prices stand at 99th in the world. However, it ranked 9th in the world in terms of property price appreciation with rental yield as high as 6-8 % and rental rate of return as high as 6% -8%.
The freehold property price is only at ¼ of Singapore's.
The Forest City is the perfect embodiment of this phenomenon as one could enjoy both the prosperity of Singapore and the affordability of Malaysia.
read
more
Country Garden, KPRJ plan massive reclamation development for luxury homes
China's Country Garden Holdings Co Ltd and Kumpulan Prasarana Rakyat Johor (KPRJ) have drawn out plans for a massive reclamation project to build luxury homes near Pendas in southern Johor near Singapore, according to sources.
Sources said that the project could entail a land area of "a few thousand acres," which would make it one of Iskandar Malaysia's single largest projects. It isn't clear how much Country Garden is pumping into the project, but going by its size, it would dwarf the Hong Kong-listed firm's first project in Danga Bay, which only covered an area of 50 acres or 20ha, for which it had paid RM900mil.
The new project is being dubbed Forest City.
read
more
Country Garden Forest City – Southeast Asia's Largest Green City
Country Garden Forest City Development is Southeast Asia's firsts and largest mixed-use green development in terms of the number of units to be built with a vertical greenery and smart city design theme. Country Garden Forest City revolves around a multi-layered three dimensional city planning, with lush vertical greenery covered with dense foliage and multiple forms of public transportation operating at high efficiency, sustainable and renewable energy infrastructures. With the use of futuristic green design and smart technologies, Country Garden Forest City Development is set to become a role model of future cities, adopting best practices to minimise environmental impact through integrated solutions to achieve zero impact to the surrounding area.
Country Garden Forest City is a city meant for the future, a vision and longing that was born out of 30 years of experience influenced by China's pace of internationalisation – car free zone, luxury green living coexists with smart technologies and amenities, surrounded by the wonders of nature and is of close proximity to centres of education, healthcare, transportation, financial centres, and leisure attractions.
Rather than another pure real estate project, Country Garden Forest City is a culmination of our wisdom, knowledge and experience that brings to life an eco-city of the future in its true sense, offering a perfect mix of luxury tranquillity, urban vitality and proximity in the heart of Southeast Asia. Ideally suited for those who are seeking a 'get-away' luxury lifestyle from the bustle of modern life.
related:
Forest City Johor 碧桂园森林城市
read
more
Forest City - An Iconic Urban Area
Forest City comprises of four (4) islands with 3,425 acres, surrounded by sea grass, flora and fauna. It is made up of 4 reclaimed island near Tanjung Kupang of an initial gross development of RM 450 billion and have received RM 170 billion worth of commitment investment, expecting to create 220,000 jobs opportunities upon completion in 2035.
Forest City, adjacent to Singapore a special zone in Iskandar, a prime location and valuable low cost land closest to Singapore. It located in the heart of Iskandar, 5 km from Singapore Second Link. Iskandar is attracted more than 40 billion US dollars investment globally, including Microsoft, Lego Land and Temasek. It has also applied additional special incentives such as trade and tax policy that makes it a special zone in Iskandar. It just 40 minutes to reach Singapore CBD. Close to the KL-Singapore High-speed rail, 90 min from KL to Singapore after operation. Around 2-4 hour flight covering over 800 million people in the ASEAN market, 6-8 hour flight covering main APEC countries. Close to The Strait of Malacca, with second largest traffic density globally.
Forest City is set to trigger great changes on how development projects are being carry out throughout the world, having a 1,740ha reclaimed land to be an environmental friendly urban development, with four multi-layers development. The public would not see any vehicles on the road as Forest City would be filled with greenery on the top layer while underneath is for roads and parking bays use by vehicles, provide effective transportation system for more than 100,000 residents. Forest City will be a dream for the community to live and work.
read
more
Malaysia's China stance a hedging strategy, says analyst
Malaysia is not pivoting away from the US in favour of building ties with China, according to political analyst Yang Razali Kassim.
Malaysia is simply deepening its hedging strategy, he said in an interview with World Politics Review (WPR).
"Kuala Lumpur is certainly forging closer economic, defence and security ties with China, but I don't think it means forsaking relations with the United States.
read
more
China's 'One Belt, One Road' initiatives in Malaysia
On Jan 14, I attended a conference in Johor Baru organised by the Johor Bahru Chinese Chamber of Commerce and Industry and had the opportunity to interact with several mainland Chinese managers and leaders from the private sector who are active in Malaysia. High on the discussion list was China's "One Belt, One Road" policy and its implications for Malaysia and Iskandar Malaysia.
The final weeks of 2015 were quite momentous in terms of the Chinese presence in Malaysia. During a state visit in November, Chinese Premier Li Keqiang pledged to buy Malaysian government bonds, which have been hit by foreign selling as crude oil prices have been falling since late 2014 and by the1MDB crisis in 2015. This caused a knee-jerk uplift in the value of the ringgit, as the perception was China would step in to stabilise Malaysia's financial markets.
It was also the biggest step forward for the financial sector between China and Malaysia since April 2015, when Malaysia became the second country in Asean (after Singapore) to have a renminbi clearing centre.
read
more
China projects in Malaysia to hit Singapore
Goh: Most of the Malaysia-China indirect trade (about RM200bil) that goes through S'pore could return to Malaysia
The giant republic's aggressive investments in ports & rail links in Malaysia under its belt-road regional economic expansion programme is going to change the outlook for the island republic.
China's current mega belt-road projects in Malaysia, once completed, will alter trade routes in the region & this may divert hundreds of billions worth of trade from Singapore, according to industry players.
Cargoes & goods within the region heading for China or vice versa could bypass the Port of Singapore, when China-funded ports & East Coast Rail Line (ECRL) in Peninsular Malaysia are completed within 5 to 10 years
read more
"Singapore-Lite" To Be Built In Johor With Middle Eastern Money
Although our economy may not be in the best place right now, many people still look up to Singapore's success, so much so that they've made it their long-term aspiration to replicate our city.
In fact, copycat cities may be closer than we think. In Johor, Malaysia, Medini Iskandar Malaysia Sdn Bhd has been partnering with government-linked companies and other investors in order to create Malaysia's largest single urban development, known as the Medini Project — touted as "Singapore-lite".
Not only does this have much potential, it's also well-backed by massive Middle Eastern investors like Kuwait Finance House and Mubadala from Abu Dhabi, according to Forbes.
read
more
Building A City From Scratch: How Middle East Money Is Creating A New City In Malaysia
Ten years ago, Imran Markar was using a GPS device to navigate his way around a patch of land at the southern tip of peninsula Malaysia, just across the narrow Straits of Johor from Singapore. The area had once been used to grow oil palms, but the plantations had gone to seed and it took a lively imagination to believe that much else would thrive.
"When I first came to Johor in March 2007 it was abandoned palm oil estates," he says. "The trees had died. It was a swamp, it was water-logged. I remember being cautioned not to step out of the car because there were snakes. There wasn't a road, not even a pathway."
Today, the principal at Dubai-based United World Infrastructure (UWI) is able to drive around the same land on newly-laid roads that criss-cross a 2,300 acre, partially-completed building site, with dozens of cranes, apartments and office blocks rising up from the ground. The new city, named Medini, is part of the mega-development of Johor state being directed by the government's Iskandar Regional Development Authority.
read
more
Medini Iskandar Malaysia -
Smart City in the Making
The story of Iskandar Malaysia (IM) has gone through several iterations since its inception in 2006. Conceived as a special economic zone within the southernmost state of Johor in Malaysia, IM stretches across an area of 547,832 acres (2,217 sq km) or three times the size of Singapore.
Within IM are five zones, with Iskandar Puteri (formerly Nusajaya) being the administrative center earmarked as one of the investment destinations for both local and foreign investors—with catalytic projects such as LEGOLAND® Malaysia Resort launched in 2012 and Gleneagles Medini Hospital that was opened last year.
The sheer size of the economic zone has created more room for other catalytic developments. Rising to the challenge is United Malayan Land Berhad (UMLand), one of Medini Iskandar Malaysia (Medini)'s key developers, which will be rejuvenating an existing lake and promoting lakeside living.
related:
Medini Iskandar Malaysia—Inclusive Smart City
From Master Planner to City Builder
The Compass: Upcoming Commercial Hub
Incentives for Investors
Coming Up: Medini Lakeside
The Next Lap
read
more
Medini: Catalyst to the Pulse of Iskandar Malaysia
Incorporated in 2008, Medini Iskandar Malaysia Sdn Bhd (MIMSB) initiates and support catalytic developments of the 2,230 acres of land identified as Medini Iskandar Malaysia (Medini). MIMSB takes on the responsibility to creatively innovate aspects of Medini with the latest, integrated, connected and smart city initiatives.
As an integrated and comprehensive masterplanner for Medini, MIMSB has also made an impact as a developer, by building iconic developments that contribute to the growth of Medini. MIMSB has been working synonymously with other renowned developers such as UMLand, Sunway Iskandar, E&O, WCT, Mah Sing and many others, and this puts Medini on the map as the new destination in the region.
Aspiring to be the Central Business District of Iskandar Puteri, Johor, MIMSB works very closely with investment and government organisations to make Medini the Icon of City Living for the Future.
read
more
Medini Iskandar Malaysia
Medini Iskandar is the flagship development positioned as the new urban township of Iskandar Malaysia. Spanning an area of 9.3 sq km (2,230 acres), Medini Iskandar Malaysia (Medini Iskandar) is the flagship development positioned as the new urban township of Iskandar Malaysia.
Fast Facts:
International Mixed-used Development

96 million sq.ft./2,230 acres in Nusajaya.

The maximum permitted Gross Floor area (GFA) of 182 million sq.ft.

Expected Gross Development Value(GDV) of US$20 billion over 15-20 years. 20% to be developed by 2014 with a targeted population of 50, 000
read
more
Medini Iskandar Malaysia
Medini Iskandar Malaysia (Medini) located within Iskandar Puteri is marked as Flagship Zone B under the Iskandar Malaysia development blueprint. This economic development region is situated in the state of Johor, Malaysia.
Medini is a 2,300 acres (9.3 km2) urban township development planned for a population of 450,000 by 2030. Medini is Malaysia's largest single urban development to date and will become the smart and connected Central Business District of Iskandar Puteri. The gross development value of Medini stands at US$20 billion spanning 15 to 20 years.
Signature developments in Medini include Mall of Medini and LEGOLAND®.Malaysia Resort (theme park), which is designed to provide activities for families and houses over 70 rides.
The name Medini comes from the ancient name of the southern tip of Peninsular Malaysia, Ujong Medini.
read
more
Cut-Price Luxury Homes Fuel Singapore Tri-Nation Sprawl
Darren Chin gave up a 15-minute train journey to his office in Singapore for a two-hour drive with a stop at passport control. The reason: By commuting from Malaysia, he can afford his own two-story home and car.
"It's worth it," said the Malaysian financial adviser, who leaves his house before 6:45 a.m. to get to his job at Oversea-Chinese Banking Corp. on time. "I'm saving on rent and I'm paying for my own house."
Chin is part of the expansion of Southeast Asia's richest city across its borders as residents and companies seek property, labor and amenities, often at half the cost or less. The result is a three-nation urban complex with a population bigger than London and an economy that would rank as one of the fastest-growing in the region
.
read
more
Formula One Joins Legoland in Plan to Remake Malaysia's South
Robert Pick, the former deputy head of the U.K.'s Marlborough College, recalls the day in 2009 when he stood atop a hill at the southern tip of Malaysia and scanned an endless sea of green palm oil trees. He strained to see the spot among the massive plantations where the private boarding school would build its first overseas branch three years later, Bloomberg Markets magazine will report in its September issue.
"It was a leap of faith," says Pick, who's now the founding master of Marlborough College Malaysia, in his new office with a floor-to-ceiling window and a view of vast cricket and rugby fields. "You wouldn't have believed then what it is now."
Today, the 90-acre campus boasts more than 30 low-rise buildings divided by green lawns and tennis courts and is traversed by 376 students.
read
more
Embracing, Leaning & Tilting towards China
FILE - In this Nov. 19, 2015 file photo, Malaysia's Prime Minister Najib Razak, left, talks with China's President Xi Jinping as they arrive for a family photo with other leaders at the Asia-Pacific Economic Cooperation summit in Manila, Philippines
Following Philippine President Rodrigo Duterte's recent visit to China, Malaysia's prime minister is the latest leader of a nation that claims territory in the South China Sea to travel to Beijing.
Najib Razak arrives in the Chinese capital on Tuesday for a six-day visit to the country whose claims to virtually the entire strategic waterbody overlaps with areas that Malaysia says belong to it.
Malaysia claims a swath of the South China Sea north of Borneo, along with islands and reefs, but has been relatively understated amid feuding among fellow claimants China, Vietnam and the Philippines.
read
more
Medini Iskandar
Forest City
related:
Another Singapore Next To Singapore?
Iskandar Malaysia:
Why are the Chinese here?
S'pore-KL High
Speed Rail Agreement
Malaysia's "gain"
and Singapore's "loss"
Malaysia's ECRL touted
as a game changer
Embracing, Leaning & Tilting towards China
Mega reclamation project off Johor
Malaysia files for revision of ICJ's Pulau Batu Puteh decision