Netizen uncovers more racist posts from "Eve Tan" on facebook
Hardwarezone Forum
Link
Related:
Netizen uncovers another racist post on Facebook
read more
Netizen uncovers another racist post on
Facebook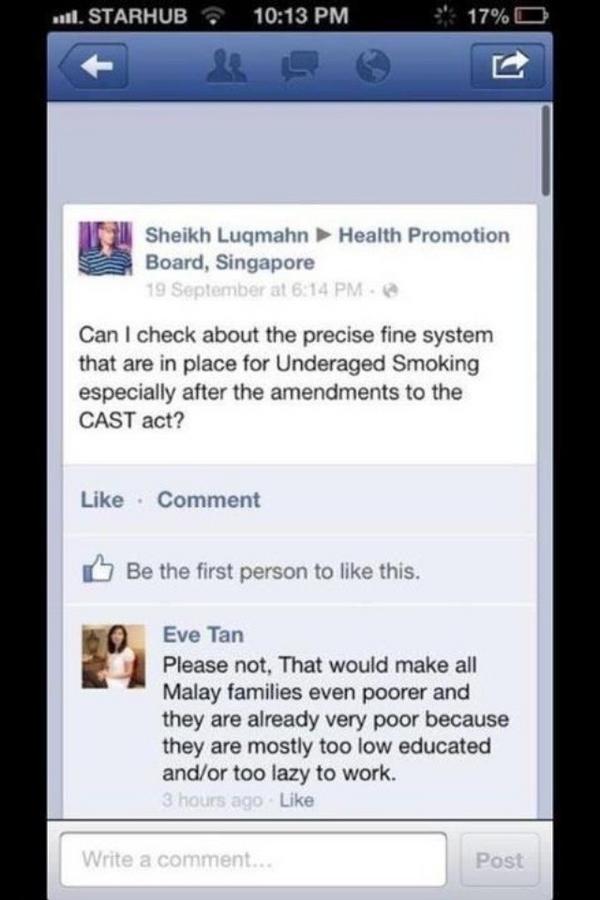 Hardwarezone Forum, 7 Oct 2012
read more
Lionel De Souza surfaces!
Wow, I didn't have to wait long at all for Lionel De Souza to present himself in his usual apple polishing ways.
I am interested in him because he filed the police report over Amy Cheong's terrible facebook fiasco. I was telling wifey that I recognize that name because he was such a stand out flatterer in the ministers and MPs facebook pages. Lionel de Souza latest, "With you, Mr Yeo at the helm of Kerry, this slogan holds true" Lately this bootlicker has done less than nothing for racial harmony.
Now let me see, I might have an earlier entry on Mr. De Souza. Yes, it was posted in May:
PAP Apple Polishers
read more
PM Lee and his ministers join the lynch mob
Yahoo! News Singapore, 8 Oct 2012
Prime Minister Lee Hsien Loong on Monday condemned the "offensive" Facebook post of a labour group executive, even as he called it an isolated incident.
Law Minister K Shanmugam in a Facebook post on Monday also decried Cheong's comments, saying they "are shameful and completely unacceptable".
NTUC Secretary-General Lim Swee Say, who holds the rank of minister in the Prime Minister's office, announced Cheong's sacking on the organisation's Facebook page. "We will not accept and have zero tolerance towards any words used or actions taken by our staff that are racially offensive," Lim said.
Minister for Manpower Tan Chuan Jin also weighed in on the issue. In a post on his Facebook page, he said traditional Malay void deck weddings are as much a part of the Singapore landscape as "burning of offerings, void deck funerals... and increased parking during Friday prayers or Sunday morning worship."
Full story
read more
NTUC forced to sack Assistant Director after public outcry
Yahoo! News Singapore, 8 Oct 2012
The National Trades Union Congress (NTUC) has sacked an assistant director from its membership division after she posted offensive comments on her personal Facebook account.
In a statement sent to the media, its secretary-general Lim Swee Say said the trade organisation has "terminated with immediate effect the services of Ms Amy Cheong, Assistant Director, Membership department after establishing with her that she did post offensive comments... on 7 October 2012".
"Regrettably and rightly so, her comments have upset members of the public, including many union members. We are sorry that this has happened. We have counselled the staff and impressed upon her the seriousness of her action. She is remorseful and has apologised for her grave lapse of judgement," he added.
Full story
Related:
NTUC sacks employee who made racist comment online
NTUC's Assistant Director in hot soup over her racist rant against Malay weddings at HDB void deck
NTUC's assistant director in hot soup over her racist rant about Malay weddings at HDB void deck
Link
Related:
NTUC investigates staff's alleged inappropriate Facebook post - Channel News Asia
read more
Singapore saw 1.578 million Chinese visitors in 2011, but how many are genuine tourists?
Xinhua, 7 Oct 2012
SINGAPORE, Oct. 7 (Xinhua) -- More and more Chinese tourists choose to visit Singapore for longer time, with visit arrivals doubled and per capita expenditure tripled during the past ten years from 2002 to 2011.
According to official data from Singapore Tourism Board (STB), China was once the third largest in-bound market for Singapore in 2002, with only 670,000 visitor arrivals.
But since 2003, China has become the second largest in-bound market, from which about 1. 578 million people visited Singapore last year, a dramatic increase of 35 percent from 2010.
Full story
read more
Chan Chun Sing organised wayang show at PSA for youth group leaders to show the need for more foreign workers
Malaysia Star, 8 Oct 2012
SINGAPORE's manpower challenges were topmost on the minds of a group of young executives at a dialogue with Acting Minister for Community Development, Youth and Sports Chan Chun Sing.
Having toured Singapore's port in the morning, Chan and some 70 professionals from youth leaders' group Inspirit reflected on challenges faced by the port as well as Singapore's low productivity growth and reliance on foreign workers.
With the Government tightening the flow of foreign manpower, participant Phua Mei Pin, 35, a journalist, wanted to know how port operators and the maritime industry were coping.
Chan said the going has been "very tough". Port of Singapore Authority (PSA), for example, has a workforce of 7,000, of which 2,000 are foreigners from non-traditional sources like India and Myanmar.
Full story
Cap the Cab Crap!
I am appalled by the recent uncovering of an underground, illegal operation whereby passengers willing to pay more are guaranteed a taxi. This only adds to the taxi problem we already have. Many visitors to our Singapore tell me what a great country this is except for the taxi situation. My own experience with many other cities – New York, Seoul, Hong Kong, Jakarta, London, Bangalore, New Delhi, Mumbai, Manila, Bangkok, Sydney – is that taxis are readily available any time of the day or night. No hassles.
This is not the case in Singapore. It shouldn't be. In fact the Land Transport Authority has declared that the practice of paying a premium on top of the metered fare is illegal.
But the vice-chair of the Government Parliamentary Committee for Transport, Seng Han Thong said "This is the reality on the ground where some passengers prefer a personalized service…It's a happy buyer, happy seller situation." This is the same clown who once opened his mouth on TV without first engaging his brain and said, "some…staff, because they are Malays, they are Indians, they can't converse in English well enough" and was – rightly, I must say – accused of racism.
read more
Why it's so hard to get a cab when it pours: study
Ever wonder why cabs are like gold when it rains and you need one the most?
Well, a five-month study initiated by the the
Singapore-MIT Alliance for Research and Technology
(SMART) may have the answer.
According to the study that compared weather patterns and taxi movement in Singapore, taxi drivers (from ComfortDelgro) are wont to park by the side of the road and remain stationary when it's pouring instead of risking an accident on slippery roads
read more
The sorry state of politics in Singapore

Editor's note: This is an occasional cynical piece from a TOC reader. Go grab an aspirin before reading this!!!

It has been over a year since we had our "watershed" elections. Let me take stock on where the various parties have been, at least to a layperson like me.

I don't seek out political news or really keep abreast on what each party is doing in detail but this is what I have generally observed:
Workers' Party buying votes for upgrading project in Aljunied?
XIN MSN News, 5 Oct 2012
SINGAPORE: Aljunied—Hougang Town Council says a 22—page booklet for a Neighbourhood Renewal Programme (NRP) in Eunos Spring of Aljunied GRC had made it known that all eligible households who voted "yes" would automatically qualify for a lucky draw.
It said in a statement to the media on Thursday that 2,768 units were informed of the polling exercise on 11 and 12 August.
During the exercise, 79 per cent, or 2,188 households, voted for the upgrading project.
The town council was responding to unhappiness among some residents in the Eunos Spring area over the lucky draw.
Full story
Related:
Vote-Buying Rears Its Ugly Head - Simply Glab
Oppositions could have won the 1963 election if not for the vote splits
The Year was 201X.
The PAP Government dissolved the Parliament and called for the next General Election to be held. The ground was extremely bitter and sour for the ruling party and the chance to deny the PAP 2/3 or more of total parliamentary seats had never been so good.
While the widespread of discontent at the ground raised hope and injected optimism within the opposition camp, the risk of multi-cornered fights and thus vote-spitting had also go up significantly.
A meeting among all opposition parties prior to Nomination Day revealed that many constituencies would have a multi-cornered fight :
read more
Standard Chartered Fires Back at Temasek
FoxBusiness.com, 5 Oct 2012
Standard Chartered Bank PLC said Thursday that Temasek Pte. Ltd., its largest shareholder, misinterpreted U.K. corporate governance rules when it abstained from voting at a May meeting to re-elect some bank board members.
The emailed statement from Standard Chartered hints represents a rare disagreement between the U.K. bank and the Singapore state investment body. It also comes a day after The Wall Street Journal reported that Temasek, which owns an 18% stake in the U.K. bank, has expressed discomfort with the bank's governance and is pressuring it to appoint more independent directors.
To register its unhappiness with the bank, Temasek abstained from voting for the re-election of the nonexecutive directors to the board in May, a person familiar with the situation said.
Full story
Related:
The article went on to say that, despite earlier reports in the FT, Temasek did not have any immediate plans to sell its stake in the bank. I discussed a possible sale of Temasek's stake in "Roach Motel or Investing for the Long Term: You Decide What Best Describes Temasek' s Investment Strategy" (
http://sonofadud.com/2012/09/26/roach-motel-or-investing-for-the-long-term-you-decide-what-best-describes-temaseks-investment-strategy/
).
The WSJ article quoted "a person close to Standard Chartered" who said "the dispute stems from Temasek's desire for the bank to have a supervisory board consisting of just one Standard Chartered executive, with the rest of the board made up of independent directors." The article went on to say that in its latest annual report Temasek had added a section about governance saying "To provide effective oversight of management on behalf of all shareholders, we advocate that boards be independent of management. We do not support excessive numbers of executive members on company boards."
Singapore and Hong Kong are similar in many ways. Both are former British colonies and inherited many features of the Westminster form of governance. According to Wikipedia, Roman Catholicism is practised by 4.6% or about 210,000 people in the Little Red Dot. The Catholic Diocese of Hong Kong states on its website that the Fragrant Harbour has 363,000 resident and 138,000 non-resident (e.g. Filipino maids) followers.
However, looking at how Gregory Yong behaved during Operation Spectrum in 1987 and Nicholas Chia is now behaving in this year's Letter-Gate, one cannot help but feel that the difference in "gutsiness" between Hongkongers and Singaporeans extends also to the priesthood.
While in Letter-Gate, the Archbishop has relinquished his role as a shepherd and retreated into his tortoise shell, his counterpart in Hong Kong, Cardinal John Tong has gone on the offensive.
read more
"Factually" Incorrect: The IMF Restatement
It has been brought to my attention that the Singapore government has created website called
Factually
where they "present the facts." On this website they address such issues as "
why did the IMF restate Singapore's fiscal data?"
and "
Is there something wrong with our Reserves
?"
In these "factual" articles by the Singaporean government they complain about "recent online articles" questioning the veracity and reliability of Singaporean data. As I have had people, both those criticizing and encouraging me, to respond, I will respond to the Singaporean governments response
I will begin with their short response to the IMF restatement of Singaporean public finance data. There are two primary points about the Singaporean response.
Property Prices in Singapore – The Gordian Knot?
Translating into reality, does the Singapore government and Singaporeans have that courage to wield their sword?
"HDB resale prices rise 2% to record high in Q3" grabbed the headlines of mainstream newspaper recently and has in a way became the Gordian Knot of Singapore – a terribly complicated issue that requires resolution. However the property prices issue seemed to be tricky to resolve.
With the recent reports on million-dollar HDB apartments in the resale markets and the prices of BTOs, the escalation of property prices towards astronomical heights seemed unstoppable. Median Cash-over-valuation has also risen by 12% over the last quarter and that was a good proxy on the strong demand for resale HDB property. The adjustment of prices to sensible affordability is impossible.
The muted response from the public to the increase in prices of resale HDB flats confirmed my deep concern that there is now a widespread acceptance, though grudgingly so, of the high prices of property in Singapore.